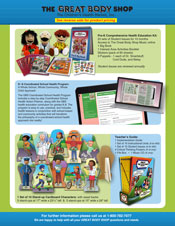 The Children's Health Market
Professional Development Menu
and Rate Schedule
We are pleased to present to you the following list of training workshops currently offered by The Children's Health Market. All workshops are designed to meet the needs of the participants, to be interactive, motivational and relevant to today's educational challenges. All workshops are conducted by expert staff developers who are recognized for their content knowledge and training skills. The prices below are for professional development fees only. Travel expenses for professional development services are in addition to the professional development fee, and will be quoted on an individual basis.
Basic Teacher Orientation
$600 half day / $900 full day
Trains teachers how to implement THE GREAT BODY SHOP curriculum. Provides an in-depth overview of the curriculum, including demonstration lessons, active participation activities, and instruction on how to use the curriculum effectively in the classroom. Full day workshop includes how to use the assessment/testing web tools. Half day workshop enables teachers to "jump-start" the curriculum and may require additional training at a later date. Workshop is designed for specific grade levels: PreK, Elementary or Middle School. Maximum participants: 50
TRAINING OF TRAINERS
$600 half day / $900 full day
Training for district-selected trainers held at a local school site. Equips district staff with the ability to provide the BASIC TEACHER ORIENTATION for classroom teachers. Allows a school district/system the ability to provide inhouse staff development in THE GREAT BODY SHOP. Maximum participants: 50
COORDINATED SCHOOL HEALTH
$1800 Two full days
Trains district staff how to implement THE GREAT BODY SHOP Coordinated School Health Program. Provides an in-depth overview of GBS curriculum and the CSH Kit. Includes demonstration lessons, active participation in activities, and scheduling of monthly school-based wellness activities. Appropriate for Elementary School staff only, who are responsible for implementing the curriculum and coordinated school health. Maximum participants: 50
ADVANCED or FOLLOW-UP TRAINING
$600 half day/$900 full day
Advanced/Follow-up GBS training is offered to school districts that have previously used THE GREAT BODY SHOP and would like additional, in-depth training for web-site and curriculum updates. This workshop offers an opportunity for teachers to come together after they have taught several of THE GREAT BODY SHOP lessons to share successes and problem solve implementation challenges. Workshop may be customized to integrate special topics or district initiatives. Maximum participants: 50
TECHNICAL ASSISTANCE or OVERVIEW
$125/Hour
We are often asked by school districts to provide on-site technical assistance, one-on-one training, after school overviews, or a short in-service. These visits may take the form of an appointment, demonstration lesson, planning session, or after school staff meeting. Appointments may last between 30 minutes to 2 hours depending upon the specific needs of individual classroom teachers or staff.
SPECIAL TOPIC WORKSHOPS
$600 half day / $900 full day
Special topics presented by expert trainers may be combined with the BASIC TEACHER ORIENTATION, or selected individually to meet the needs of your school district. These workshops provide current information about relevant topics. Trainers for each specialized topic have expertise in their field that uniquely qualifies them to present a Special Topic Workshop. Maximum participants: 50