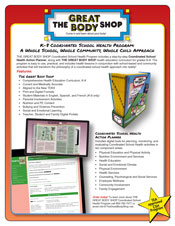 Action Planner
The Action Planner includes ten, digital, multi-year licenses with access to a myriad of tools for planning, monitoring, and evaluating coordinated school health activities addressing the ten components.
Digital Tools:
Implementation Guide
Program Scope and Sequence
Instructional Materials for Health Education and Physical Education
Implementation Calendar
Administrative Reporting Tools
Standards Explorer
Instructional Log
School and Community Wellness Activities
Assessments
Family Portal
How Do You Get Started?
Administrators are provided with a step-by-step process for implementing the Whole School, Whole Community, Whole Child Model which starts by establishing a school health advisory committee. The suggested make-up for this committee includes parents, students, food service workers, school administrators, community members, as well as other representatives from various wellness areas, including outside agencies and organizations. It is this committee that works together to develop specific health enhancing activities from the Action Planner that fulfill wellness policies as well as other areas identified during the needs assessment process.