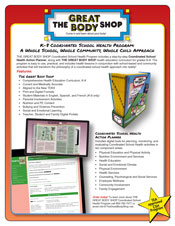 Ten Component Model
THE GREAT BODY SHOP Coordinated School Health Program includes a step-by-step Coordinated School Health Action Planner, along with THE GREAT BODY SHOP health education curriculum for grades K-8. Using the Whole School, Whole Community, Whole Child Model as a framework, the program is designed to provide health lessons in conjunction with school-based and community activities that will transform the philosophy of a coordinated school health approach into reality! Click on a Component below to view descriptions.
Physical Education and Physical Activity
All children and adults need to be physically active! Schools encourage students, parents and staff to lead physically active lives both in and out of school through a variety of physical education classes taught by a certificated instructor; physical activity programs for students and families before, during and after school; and staff wellness initiatives. THE GREAT BODY SHOP K-8 can help here too. We have lots of movement activities integrated into the health lessons, as well as a physical fitness unit for every grade level that focuses on many key concepts in physical education such as motor skill development, sportsmanship, and critical skills for an active lifestyle. Additionally, our grade level physical fitness units align with various National Standards for Physical Education.
Nutrition Environment and Services
Children need access to a variety of nutritious and appealing foods and beverages that accommodate and encourage healthful eating to meet their health and nutrition needs. Studies have also shown that attention to the creation of an attractive and inviting setting for eating meals, and allocation of enough time for relaxed eating greatly affect students' interest in and consumption of nutritious foods and beverages. Food service and school nutrition programs should reflect the U.S. Dietary Guidelines for Americans, meet standards for National School Lunch and Breakfast Programs, as well as health and safety standards for food and beverages consumed or provided anywhere on campus before, during and after school. Moreover, the school cafeteria offers students a learning laboratory for practicing healthy eating behaviors and making more nutritious food choices as a way to encourage students to make healthful eating and good nutrition a priority for life. The food service staff has important linkages and can make valuable contributions to the other components of coordinated school health to the benefit of students, staff and families. THE GREAT BODY SHOP K-8 provides many structured lessons and activities that facilitate cooperative engagement between cafeteria staff and representatives from other components of the coordinated school health model.
Health Education
A planned, sequential curriculum that addresses the physical, mental, emotional and social dimensions of health – like THE GREAT BODY SHOP K-8! According to the Center of Disease Control, "the curriculum is designed to motivate and assist students to maintain and improve their health, prevent disease, and reduce health-related risk behaviors. It allows students to develop and demonstrate increasingly sophisticated health-related knowledge, attitudes, skills, and practices. The comprehensive health education curriculum includes a variety of topics such as personal health, family health, community health, consumer health, environmental health, sexuality education, mental and emotional health, injury prevention and safety, nutrition, prevention and control of disease, and substance use and abuse." Look carefully at THE GREAT BODY SHOP Program Guide – we do all that and more to include addressing National Health Education Standards and the well-documented, characteristics of effective health education! THE GREAT BODY SHOP is your first step in implementing coordinated school health – but it doesn't stop there! The lessons and activities facilitate and encourage interactions with other key, coordinated school health-component representatives such as the school nurse, food service personnel, counselors, administrators, family members, agencies and organizations.
Social and Emotional Climate
THE GREAT BODY SHOP K-8 promotes a safe and supportive learning environment from the first unit of instruction to the last! We know that safe and secure students are more socially and emotionally able to learn, to engage with others, and achieve their goals. Social and emotional lessons and activities promote the welfare of both individual students and the student body as a whole. Factors that influence the emotional environment include staff morale, mutual respect, team building, cooperation, collaboration, nurturing of students, setting high expectations, appreciation and inclusion of parents. Students are taught, practice and demonstrate key principles such as respect, caring, kindness, effective communication and conflict resolution among peers, across generations and as contributing members of their school and larger communities .
Physical Environment
The physical and aesthetic aspects of the school greatly influence the physical and emotional health of everyone who enters the school grounds. Your school facilities and your school culture work together to say, "This is a healthy and safe place for learning." Factors that influence the physical environment include the school building and the area surrounding it, any biological or chemical agents that are detrimental to health, and physical conditions such as temperature, noise, and lighting.THE GREAT BODY SHOP lessons and activities can help the coordinated school health team identify and address physical environmental conditions that directly or indirectly impact the school environment with students "on the case" interviewing, surveying, researching and reporting on issues that they notice or experience. Going a step further, students are empowered to recommend solutions!
Health Services
Immunizations, dental check ups, physicals, eye exams and other types of health services have often been a part of school health offerings. Schools are frequently asked to assist families in identifying community resources for health services. In addition, school nurses, medical or health technicians administer medication, and provide on-site health assistance and related activity planning often in collaboration with health and physical education teachers. According to CDC, school health services "…are designed to ensure access or referral to primary health care services or both, foster appropriate use of primary health care services, prevent and control communicable disease and other health problems, provide emergency care for illness or injury, promote and provide optimum sanitary conditions for a safe school facility and school environment, and provide educational and counseling opportunities for promoting and maintaining individual, family, and community health."
Counseling, Psychological and Social Services
THE GREAT BODY SHOP K-8 has always been concerned with the "whole child". That's why we purposefully integrated Counseling, Psychological and Social Services in the program. Their prevention and intervention services are vital to addressing academic, social and psychological barriers to learning that children may experience since mental, emotional, social and physical health are intertwined. Coordinated school health considers the whole child and provides assistance for the emotional challenges, which often impact a child's ability to cope, learn or be a productive citizen. Counseling and psychological services are required for intervention and referral purposes for many students, family and staff. These services play a significant role in coordinated school health as the realities of substance abuse, violence, death, child abuse, disabilities, stress and national crises impact children's lives and emotional well being. In addition to THE GREAT BODY SHOP's skills-based, direct instruction, the program provides numerous activities for counselors, social workers and school psychologists to work in concert with the other components to address these sensitive issues.
Employee Wellness
Are you a "do as I say not as I do" school? THE GREAT BODY SHOP can help improve the wellness of your staff! Having a school wide commitment to health and wellness creates positive role modeling, improved productivity, decreased absenteeism, and reduced health insurance costs. Everyone wins! Opportunities for school staff to improve their health through individualized programs and environmental supports within and outside the school setting are essential. These opportunities directly encourage school staff members to pursue a healthy lifestyle that contributes to their improved health, improved morale, and a greater personal commitment to the school's overall coordinated health program. Indirectly, these activities demonstrate to students that the adults in their lives "walk the talk". From a coordinated school health perspective, staff, including custodians, bus drivers and other non-certificated personnel, all benefit from the support by families and community agencies encouraging healthier lifestyle choices on and off the school campus.
Community Involvement
Where health is concerned communities, like families, have always been partners in the learning process. Through a robust coordinated school health partnership community agencies as well as civic, faith-based, business and service organizations can all become involved. There's a place at the table for all groups interested in the health and wellness of all community members, young and old. Some focus on primary and secondary health care, others offer service learning opportunities for students or allocate financial or other resources and sponsorships of health-promoting school and community programs or events. The possibilities are as endless as the imagination of the coordinated school health team representatives. Joining in provides mutually satisfying and motivating benefits not only for your citizens of tomorrow but for everyone!
Family Engagement
Families welcomed! Coordinated school health teams value their family partners for their insights and willingness to share the responsibility of nurturing healthy lifestyles and education for the benefit of the community's children. Coordinated school health committees chart a course of meaningful health-related activities that engage students, staff, and community members in and out of school settings, before and after the school bell rings. The Great Body Shop K-8 shares this commitment to physical, emotional, spiritual, and mental health with a focus on knowledge and critical thinking and behavior skills that will serve students now and well into adulthood. But these goals can only be accomplished with the help and support of families. Join us!