Articles
September
October
November
December
January
February
March
April
May
June
Balancing Busy Schedules and Staying Healthy
Find yourself going out to eat at restaurants as your family's schedule gets busier? You're not alone. Nearly half of all money spent on food in the U.S. is at restaurants. This affects health, as food cooked at home tends to be cheaper and healthier. In fact, going out 4 times a week has been found to lead to 8 extra pounds per year!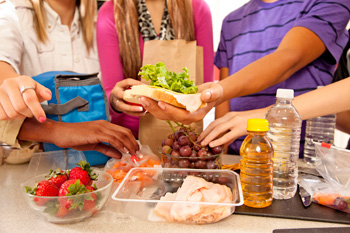 Having a busy schedule does not mean that your family has to sacrifice health. Try packing a snack, cooking meals on weekends and freezing them to be eaten later, or ordering healthier and smaller sized options when forced to eat out.
Read more about healthy eating here: https://www.nhlbi.nih.gov/health/educational/lose_wt/eat/tips.htm
Learn more about nutrition with your child in the next issue of The Great Body Shop!