Articles
September
October
November
December
January
February
March
April
May
June
Make-Your-Own Turkey Activity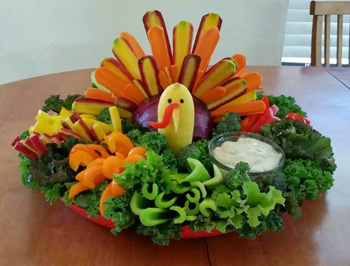 Cut up vegetables, fruits, and other colorful foods and create colorful turkeys in celebration of Thanksgiving. This is a great way to have your child get to know different fruits and vegetables, try something new, and have fun along the way!
Here are some Hot tips...
Go to the store and find a fruit or vegetable you and your child have never had before. Use it in this turkey game!
Google "Fruit and Vegetable Turkey" and look at images like these for some inspiration!