Articles
September
October
November
December
January
February
March
April
May
June
Did you know that your child should get 9 to 12 hours of sleep per day (CDC)?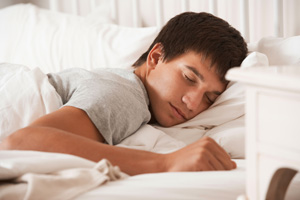 Seems high, doesn't it? That's because kids' growing brains need more sleep than adults, who only need 7-8 hours per night.
Kids who get enough sleep have better immune systems, school performance, behavior, memory, and mental health. Sleep deprivation can occur even when you or your child skimps on a couple hours of sleep one or two days a week, so it is important to create healthy sleep habits.
Here's how to create healthy sleep habits for you and your child:
Have a regular daily routine

Waking up, eating, and playing at the same time every day help your child know what to expect and can make your bedtime routine run more smoothly at night.

Get active every day

Make sure you and your child get 60 minutes of exercise every day. Make it fun and get outside!

Make sure bedtime is not screen time

Turn off all screens 60 minutes before bedtime and do not allow TVs, laptops, phones, or other screens into your child's bedroom.
Find more tips here: https://www.healthychildren.org/English/healthy-living/sleep/Pages/Healthy-Sleep-Habits-How-Many-Hours-Does-Your-Child-Need.aspx