Articles
September
October
November
December
January
February
March
April
May
June
Making Meals Meaningful (and fun!)
Mealtimes are the perfect opportunity to connect with your child and teach healthy eating habits. Here are some tips for making dinner time the best it can be: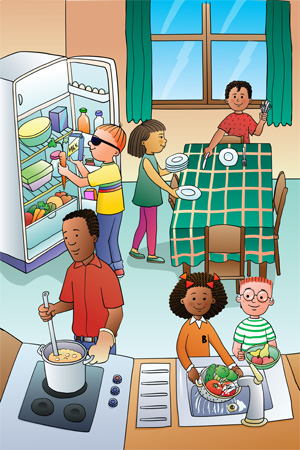 Remove distractions and talk to each other-Turn off the TV and cell phones so that your attention is on each other. Talk about your day in fun ways, such as "Rose, Thorn, and Bud."
Offer your child variety-Don't give up if your child doesn't like the taste of a specific food. You'll be surprised how often kids will end up liking food they try prepared in different ways.
Let your child help out in the kitchen-Younger kids may like to help set the table with napkins and silverware, while older kids might want to help prepare foods. Getting involved will help build a healthy, positive relationship with cooking and food.
Mix things up-Try make-your-own dishes, such as tacos or personal pizzas, or take dinner to a local park for a picnic.
Find family-friendly recipe ideas here: www.choosemyplate.gov/myplatekitchen